The Classics
Skinner - 4"

Utility - 6"

Boning - 8"

Chef - 8" or 10"
Great fishing tool. Small in size, giant in versatility. Your pocket friend to any camping adventure that comes across. Precise and dynamic for opening cuts to be stuffed.
A must-have auxiliary knife for daily tasks. Light weighted and very comfortable handle. Great for chopping or peeling fruits, vegetables and small meats.
Knife blade designed for fishing, filleting,
slicing, boning, prep work. Cleaning brisket, picanha, ribs, let this blade save your cook and time.
No job is too big or too small. A recommended way to start your first set. A variety of shapes to suit different tasks: Large meats, bulk chopping, filleting, boning, cleaning meat. The traditional & Original gaucho knife.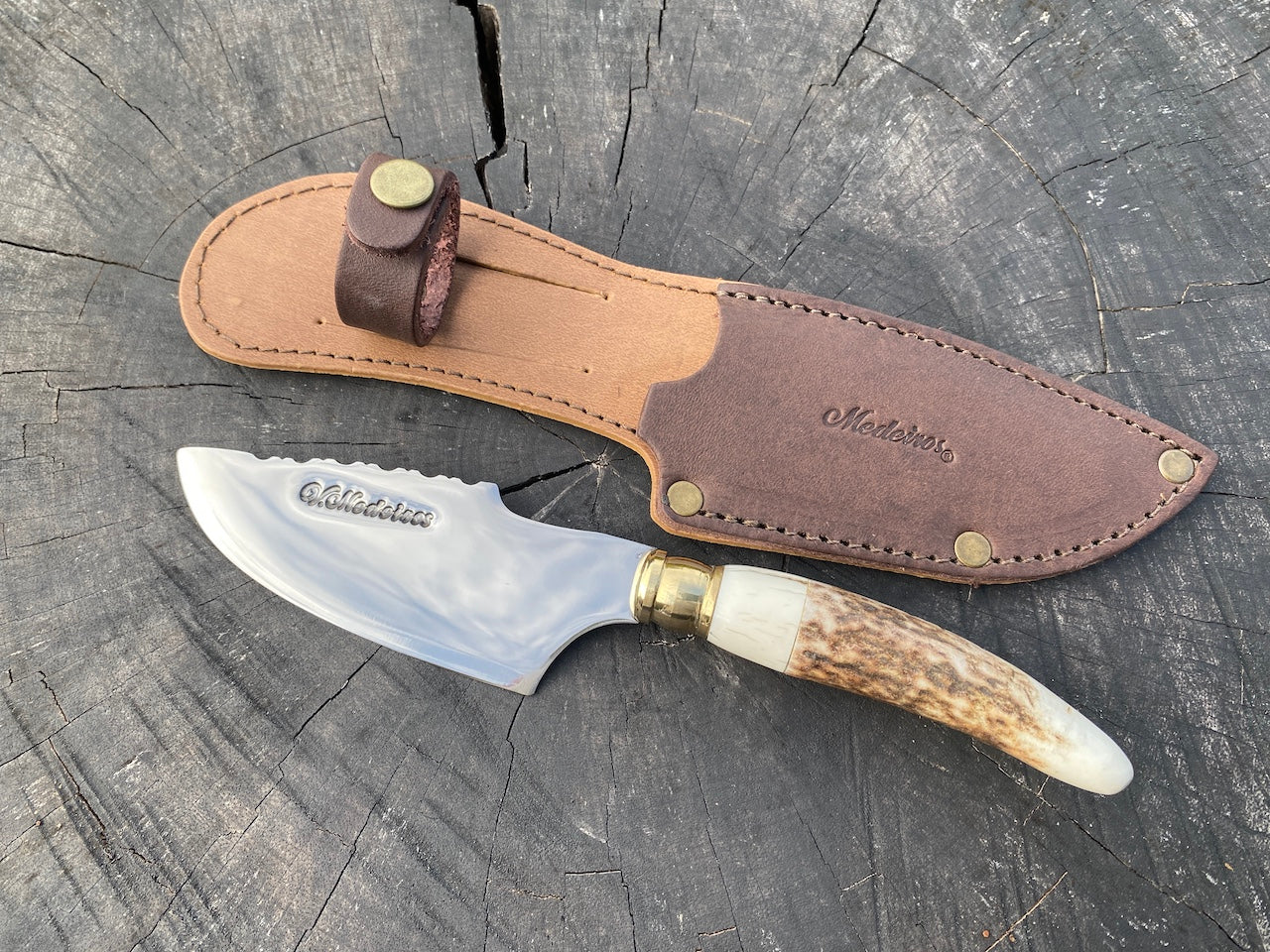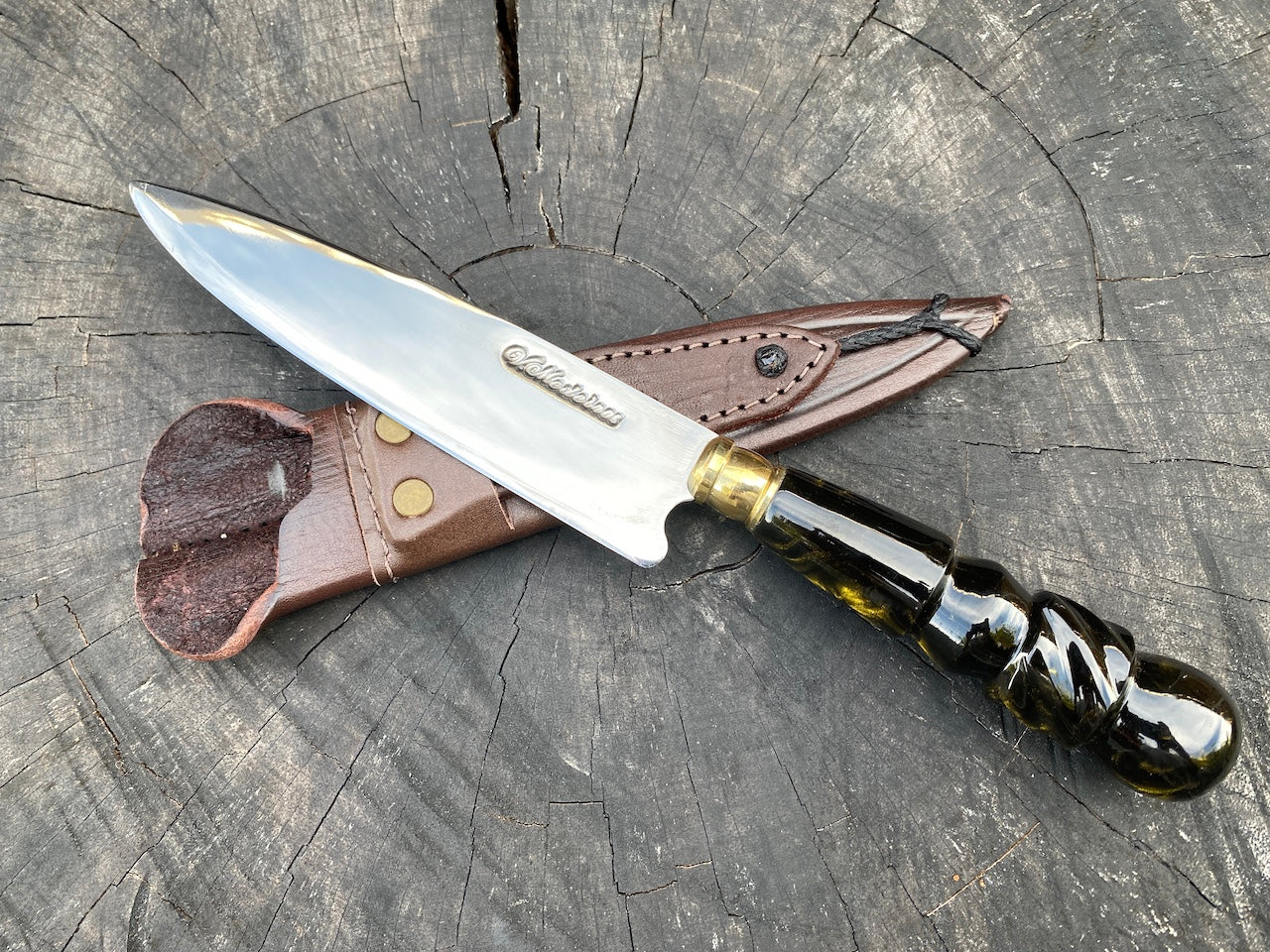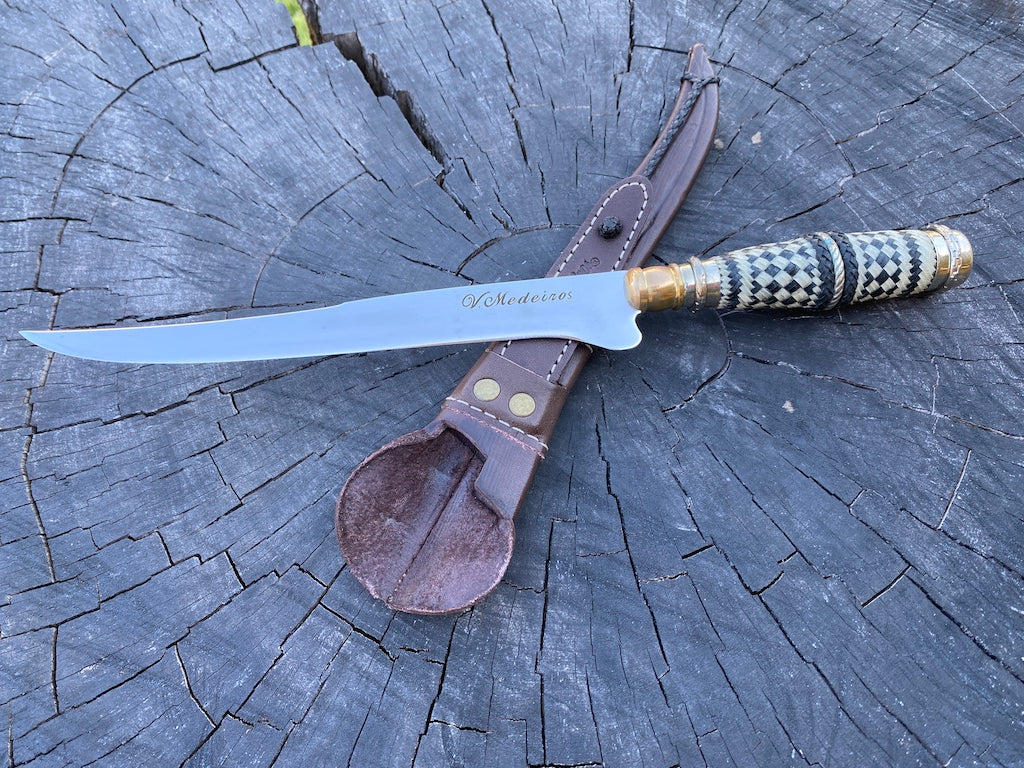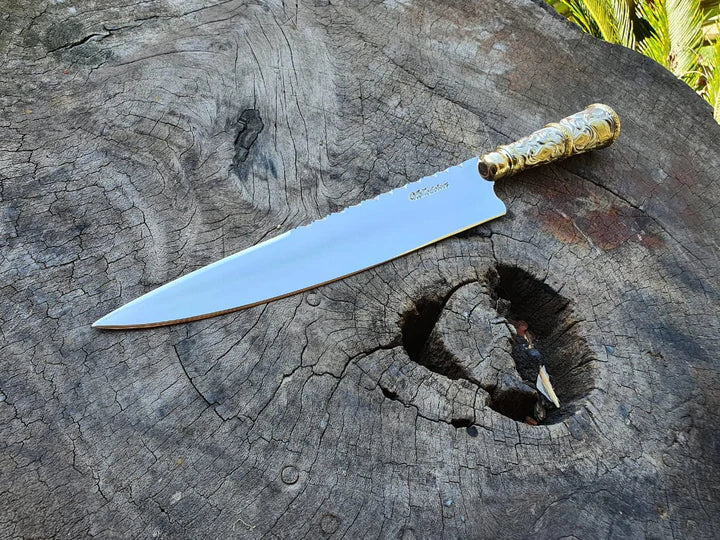 Medeiros' Favourites
Picanha - 6", 8" or 10"

Cleavers - 7" or 8"

Artisan Picanha - 8"

Bunka & Santoku - 9"
The most popular style if you will only have one Medeiros Knife (good luck with that). Further reach, wider blade. The most sold style for Brazilian BBQ, like picanha, ribs, meatloaf, roast chicken or lamb. Angled tip to add mobility when chopping vegetables.
Pick your favourite shape. Featuring 7" to 8" blades, our cleavers are your best partners for indoors & outdoors. Veggie chopping, rib slicing, splitting anything. If you know how to handle one of these, fun times ahead.
A modern blade with an artisan touch. This knife was developed to be a sweet spot in between the others. Lighter in steel, it is slightly thinner than a traditional 3mm knife. Softer, with more giving and flexibility than its siblings.
Start from the top. A multi functional knife for those who know what they're doing. From veggies to a whole fish, let this beauty do the hard work for you.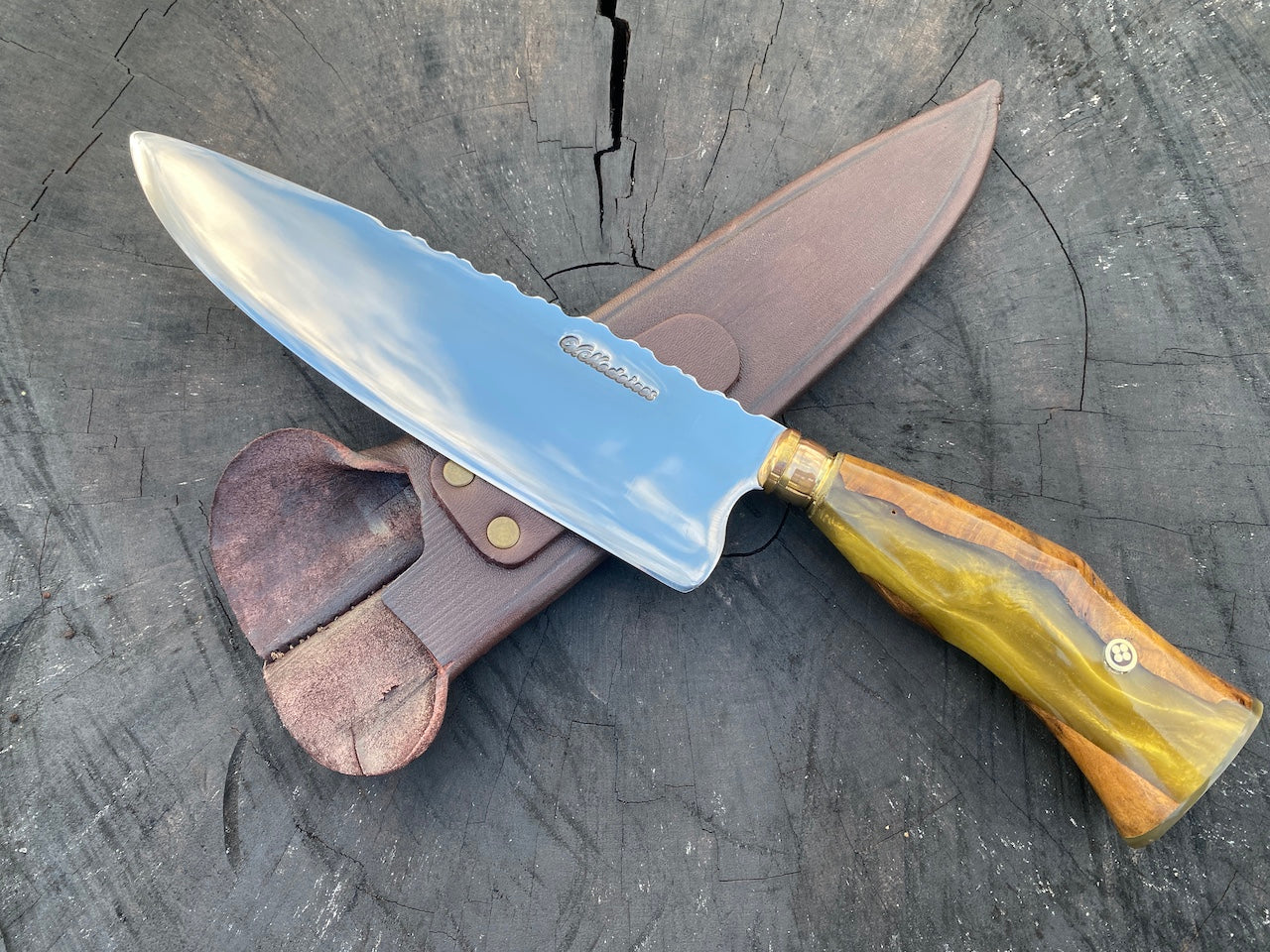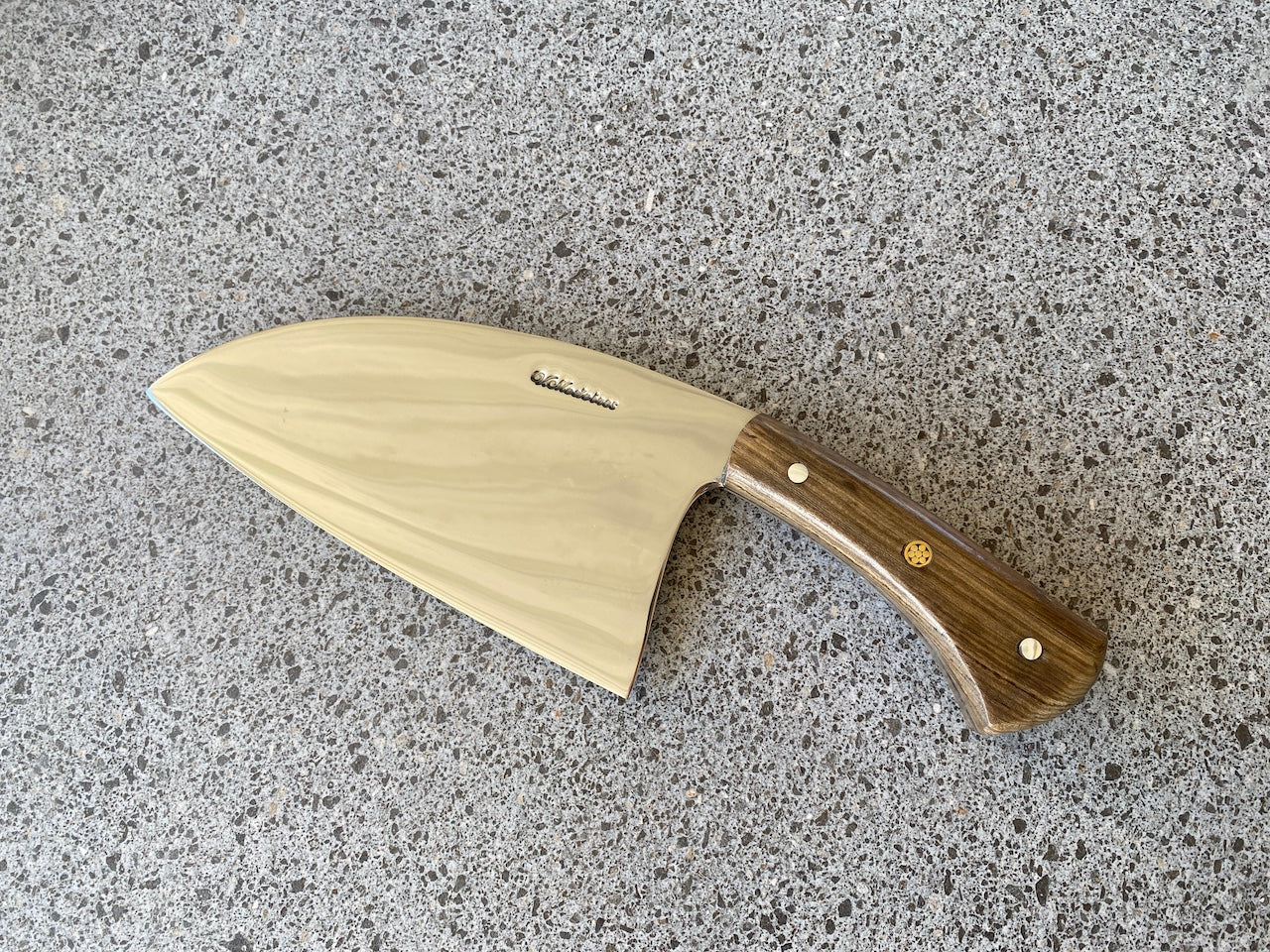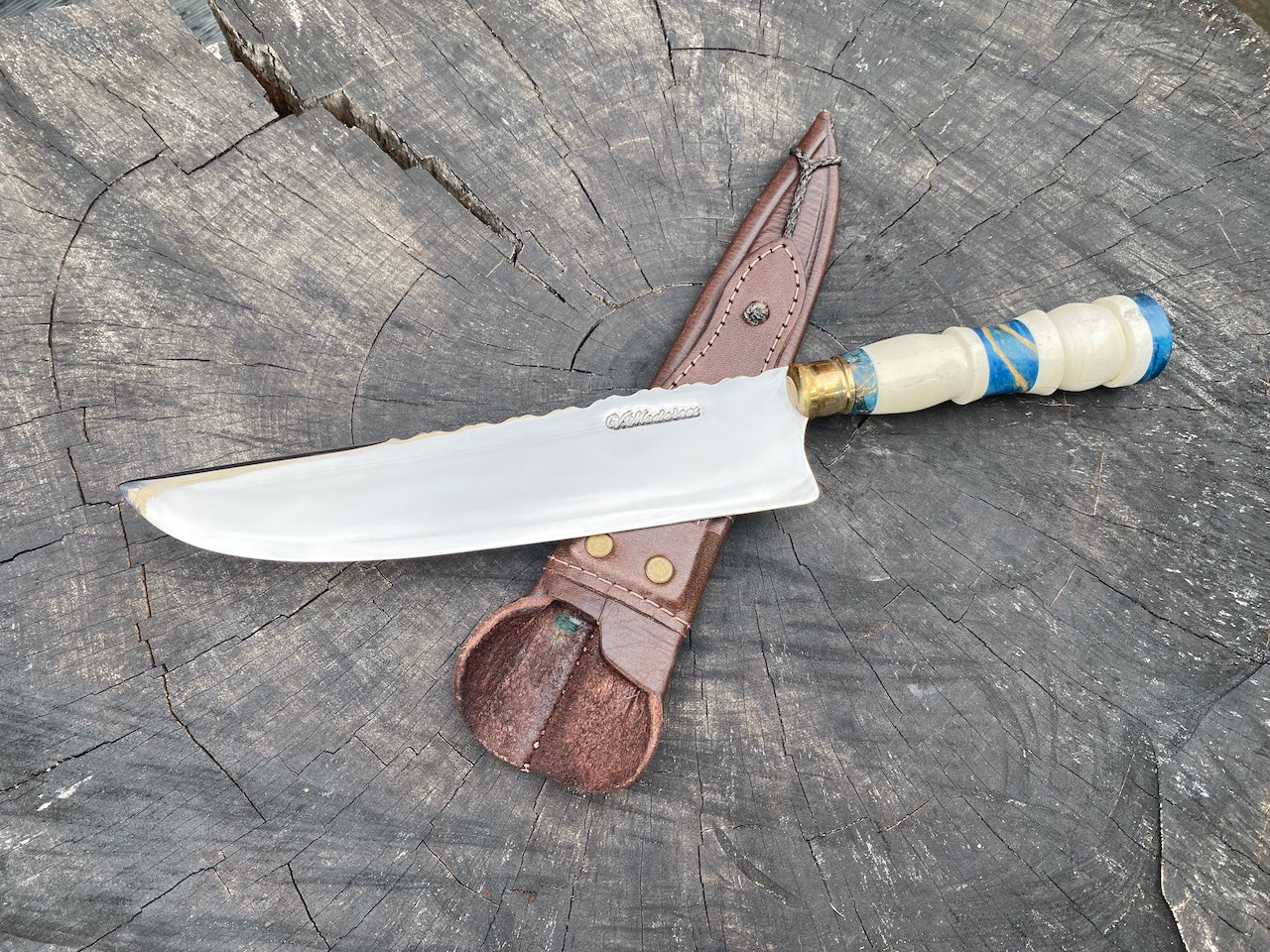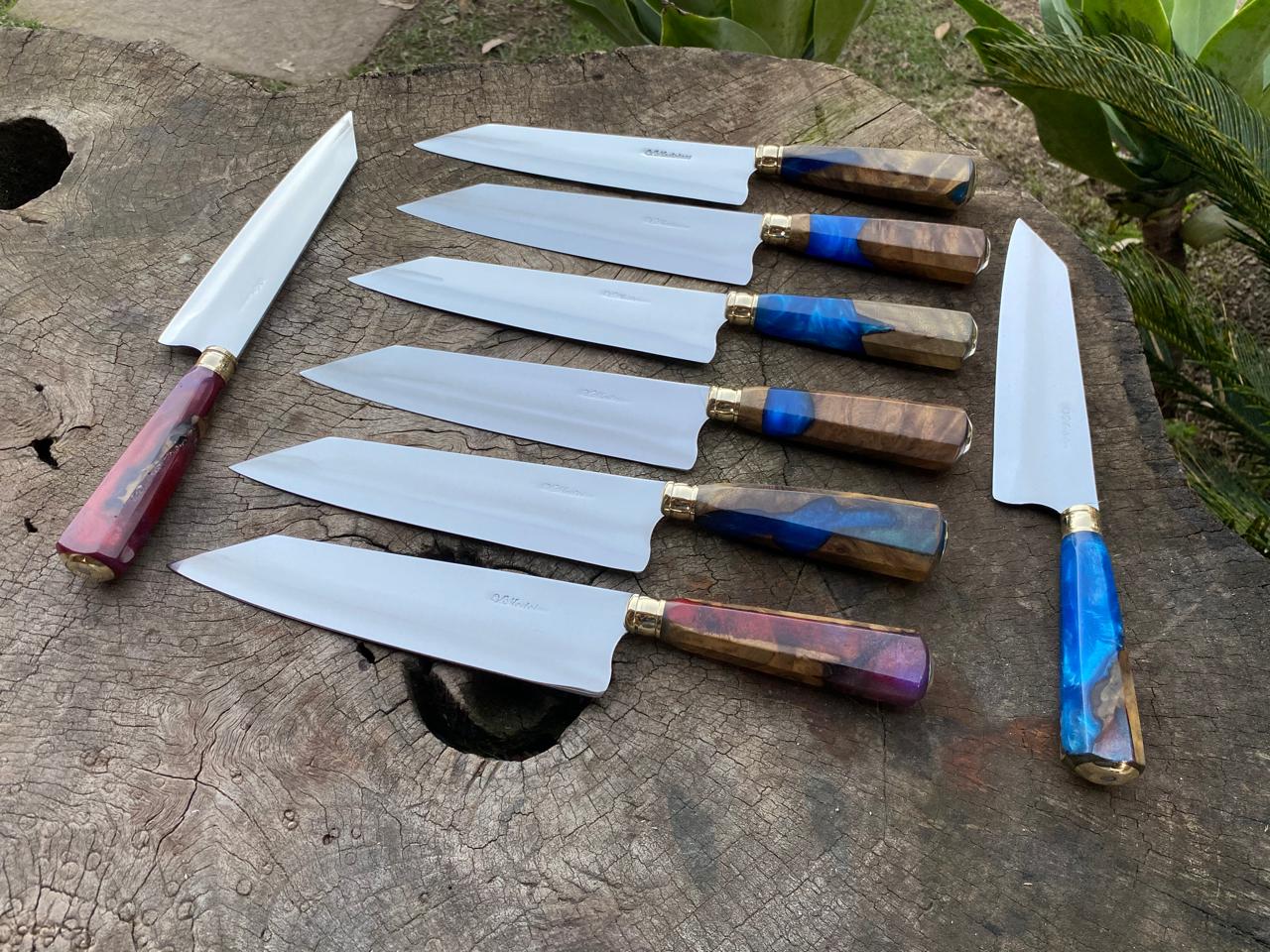 Blades
Stainless Steel

Grade 420-440C stainless steel is a high carbon martensitic stainless steel. It has high strength, moderate/high corrosion resistance. Good hardness and wear resistance. Grade 440C is capable of attaining, after heat treatment, the highest strength, hardness and wear resistance of all the stainless alloys. This steel takes a nice edge and is fairly easy to sharpen even for a beginner.

Thanks to its 50 HRC, good toughness, and high resistance, it's a really good steel for your knife, especially if you are a Chef or a Hunter or more likely a Diver, its corrosion resistance can handle humid environments.

High Carbon Steel

1095 & 1096 - The main advantage to blades made from 1095 carbon steel is that when they are well tempered, they can take and keep a much keener edge than knives with a lower carbon content.

1070 - provides exceptional strength while resisting wear. A high-carbon steel that can be oil or water hardened, 1070 also performs well in hand and machine tool applications.

A quality steel used to create tough blades which sharpen easily and hold an edge well. These are steels used for blades where greater edge retention is desired over lower carbon steels.

Phosphate Treatment

Phosphate conversion coating is a treatment applied to steel parts that creates a thin adhering layer of iron, zinc, or manganese phosphates, to achieve corrosion resistance, lubrication, or as a foundation for subsequent coatings or painting. It is one of the most common types of conversion coating while giving
your knives an incredible matte black finish.

Brut De Forge

5160 - Great steel for knives - in exception of corrosion resistance. It has good edge retention, good hardness, great toughness and wear resistance. 5160 steel knife is a great choice if you are willing to take the proper care it deserves to have.  It offers users outstanding toughness, a high level of ductility, and excellent fatigue resistance.

Damascus Steel

15n20 - A high carbon, high nickel alloy steel; it is extremely tough and versatile. We choose 5n20 to pair with 1070 or 1095 for our Damascus steel, it makes up the bright layers in the pattern, as the nickel in the steel resists the ferric-chloride we use to etch blades. Different patterns come with different techniques. Every Damascus knife is the most unique product one could possibly have.
Handles
Native Hardwood

Naturally sourced on our farm and surrounds. Varieties of Jacaranda, Imbuia, Mango Tree, Ipe, Jatoba, Pink Cedro, Pau Brazil, Pine Knot and
others.

Ostrich Leg Bone

Ostrich is a traditional bird in the southern Brazil and its meat is quite popular in a few states. We purchase the leg bones from ethical
farming. It contains a rich oil that keeps the bone hydrated, strong and malleable for many years.

Deer Antler

Sourced from either Brazil or Argentina, our Antlers are only collected from shed season. That is why one of these handles significantly impact the visual, structure and price of your knife. A must have item for any collector. Very rare material these days.

Custom Resin

We produce some blocks, but also source from specialists in the art. Sturdy yet delicate, please do not drop this knife on the floor. Incredible feel and shapes, makes the best WOW factor on a knife.
Some common tips
· Don't put knives in the dishwasher
· Don't leave a knife soaking in a sink full of water
· Don't store in a wet sheath
· Do keep your knife sharp
· Do keep it stored correctly and responsibly
· Do use the knife for the purpose it was made for
· Don't use a knife as a lever, hammer, shovel, screwdriver etc
· Don't cut on a glass, stone or steel surface, do use wood or plastic
· Do remember to clean and oil the handle as well as the blade
· NEVER put into a fire, onto a hot plate or in contact with any other heat source
FAQ
Where are Medeiros knives from?

Every single product on this website is handmade by Valerio Medeiros in Porto Alegre - Southern State in Brazil, called Rio Grande do Sul. Valerio and his assistant are responsible for 100% of the company's production.
Can I get a custom made knife where I choose every detail?

Yes, right here and right now.CLICK HERE and send us a message.
How are they made?

We work mostly with three different types of steel: Carbon Steel, Stainless Steel and Damascus Steel. Every knife will have its own treatment to reflect on its utility and style. Handles will be made of Native Brazilian Hardwood (Acacia, Jacaranda, Pau Brasil, Violet Rosewood), Custom Resin, Bone or Deer Horn.
When will my order arrive?

Once your order is confirmed, we try our best to ship it in 1 business day. We mostly use Couriers that can provide a safe and very fast delivery. You will receive an email and a text message with updates.
How does Afterpay work?

When you sign up with Afterpay, you buy the item you want today and then pay for it in four instalments due every two weeks. This way, you get what you want without ever losing control of your money or providing personal bank details to anyone else.

In return for this service, we pay Afterpay a fee so they can keep helping you plan, buy, and pay.

This means Afterpay makes its money from retailers and service providers – not from customers like you. That's why we charge absolutely no interest, ever. 
Warranty
Can Stainless Steel rust?

Any stainless steel product can in some circumstances rust but it is much more resistant to corrosion than ordinary carbon or alloy steels. It is 'stain-less' not 'stain-impossible'.

If you follow our Care Guide, that should never happen.
My knife is chipped. What now?

Niks in the blade:

Small niks in the blade are created through normal use of the knife, so don't panic if this is what has happened. Using a sharpening steel or whetstone should remove these niks and get your knife back to great sharpness. For larger niks you may need to get your knives professionally sharpened.

Chips and niks in the blade are not manufacture fault, they are not covered by the knife guarantee.

Chunks in the blade:

If the knife blade hits bone or frozen foods, the result can be that the blade has large chunks appear.

Cutting through frozen food, bone or any such product that results in large chunks in the blade is mis-use of the knife. 

Broken knife tips:

This can occur through accident or dropping the knife and is not covered by the knife guarantee.
What if I dropped my knife?

Medeiros Australia are guaranteed against manufacture fault only – this does not include knives that have been dropped.
What if my knife snapped?

To determine whether your knife has snapped from manufacture fault or not, and therefore whether it is under warranty you must return to us to examine for you.

When the knife has been examined and the outcome is manufacture fault then the knife is under guarantee. Unfortunately if the knife has no manufacture fault, then the knife is not under its guarantee and a replacement will need to be purchased.

If it's a manufacturing problem, we will also cover the shipping costs for you.
How do I resharpen my knife?

Until we release our tutorial videos, we recommend you to explore YouTube videos likeTHIS ONE
Cutting Board

Hard surfaces made of natural or artificial stone should be avoided,as the blade of the knife will become dull. Instead,use a wooden or plastic cutting board.
Knives with wooden handles

After use, rinse the blade under running water and the handle with a damp cloth. Avoid extreme temperatures, high moisture and aggressive detergents.

Tip: The wooden handle of the knife will become dull and brittle in time. To moisture and to refresh the natural grain and color, you can occasionally treat the handle with conventional cooking oil. It is recommended to use cold pressed oil, as this does not clog the fine pores and is better able to ingress into the wood.

Note: Knives with wooden handles are not dishwasher safe. This will exhaust the wood, causing swelling and dullness.
Can't find what you're looking for?
Send us an email to tell us what's up and we will get back to you as soon as possible.

Please email us at sales@medeirosaustralia.com